Do you have a family event that you would love to celebrate in the French countryside outside Paris? At Les Étangs de la Bassée in Gravon, you'll find several rooms to organise and celebrate your bespoke events.
Gather your loved ones around a birthday cake, celebrate your retirement with colleagues, enjoy a weekend with your friends, and much more. Have a look at our spaces to find out all we can offer you.
THE ROOMS AT LES ÉTANGS DE LA BASSÉE
Carpe Diem Villa has a surface area of 400 m² with a reception space of 200 m² that is perfect for a celebration over the weekend or a holiday with your family.
It has very bright bay windows that open onto the 150 m² terrace on stilts with a breath-taking view of the domain and its lakes.
This exceptional location will delight your guests, surprise your family, and offer memorable moments with your fishing friends. If you would like, you can sleep on site to make the most of your stay.
What's great about the Villa:
Modular spaces inside for up to 100 people, as well as on the 150 m² terrace (up to 120 people with specific arrangements on request)

A fully fitted, luxury kitchen with professional-grade equipment

Can sleep up to 12 people in six rooms
You can privatise the domain and reserve the other accommodation available at Les Étangs de la Bassée to spend more time with your guests the next day.
You can even host up to 56 additional people with the six lodges and La Roselière pavilion.
Les Étangs de la Bassée is an original, unmissable place in the Paris region to celebrate the best times in your life!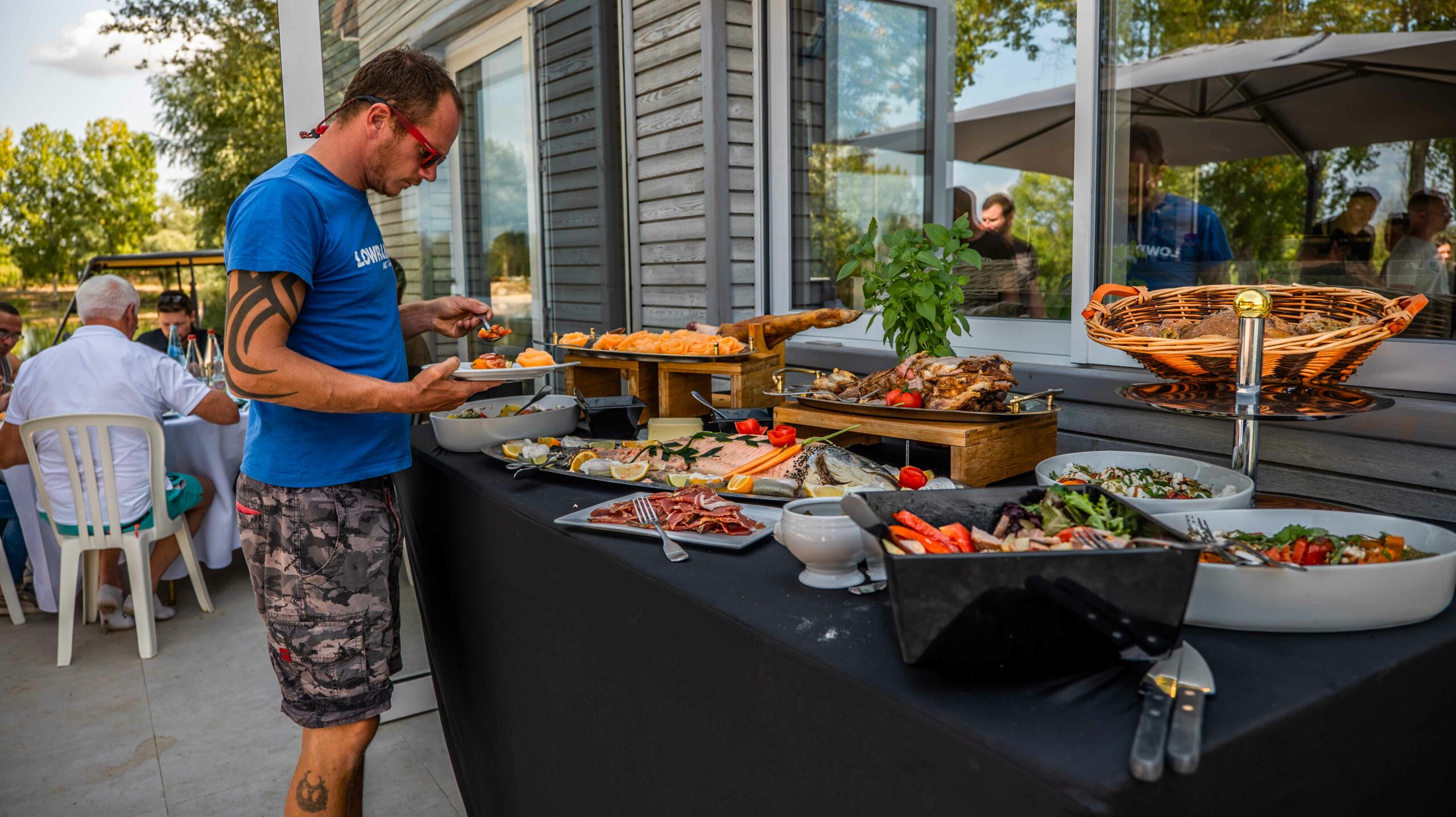 The Clubhouse's 130 m² is divided between the 70 m² reception room, which is equipped with an open-plan kitchen with a bar and stools, and the large, covered terrace of 60 m², which is a great place to meet up with your guests.
What's great about the Clubhouse for your receptions:
Its fully furnished kitchen allows you to prepare unique dishes for your guests

Ondine lodge nearby is included in your stay and can sleep up to five people.
The Clubhouse can host up to 50 seated guests and 100 with the awning.
Are you looking for an original spot for a meeting close to Paris to get out of the work environment and into nature?
At Les Étangs de la Bassée, you will find reception rooms that can be adjusted to fit your needs, whether for cocktails, conferences or workshops. You will love the domain's outdoor spaces, with 34 hectares of greenery and terraces that can be fitted out and give your teams a friendly environment.
This is the perfect place for your company seminars or team building around a product launch, photo shoots, or end-of-year parties in an exceptional lakeside fishing site.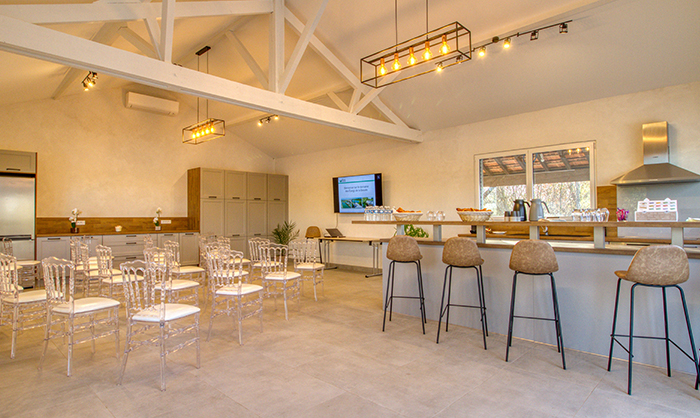 You can rent the 400 m² Carpe Diem Villa, which includes 200 m² of workspace and accommodation for up to 12 people.
If you need more reception space, there is the Clubhouse where you can set up working groups. It is comprised of a 70 m² indoor space and a 60 m² covered terrace. All the reception and work areas are completely flexible.  
Reserve a fun activity for your employees now. We offer an introduction to carp fishing and boat or pontoon outings on the lake (up to 14 people). We also recommend a trip on the Seine, Yonne, or the big lakes of the Forêt d'Orient.
Quality services in an exceptional environment
Make your events unforgettable at Les Étangs de la Bassée!