THE DOMAIN FOR FISHING ENTHUSIASTS
Discover Paris Carp Fishing is a peaceful haven nestled amid the greenery, 80 km south of Paris. The Etangs de la Bassée domain extends over 34 hectares, with nine lakes that can be reserved for private bookings and fishing spots that can welcome around 20 anglers in all. This unique concept was created by an enthusiast, for enthusiasts, with a single objective: offer a unique and unforgettable carp fishing experience.
Take your experience to the next level by renting accommodation with all the comforts.
AN UNFORGETTABLE EXPERIENCE
Our domain is the only one of its kind in France and dedicated to leisure carp fishing. The domain's lakes have an incredible stock of carp, including some weighing up to 30 kg that were introduced in collaboration with Nicolas Boissier from Étangs Creusois. We have carp such as common carp, grass carp, mirror carp, fully scaled mirror carp, koi carp, and chagoi carp.
We practice no-kill, catch-and-release fishing.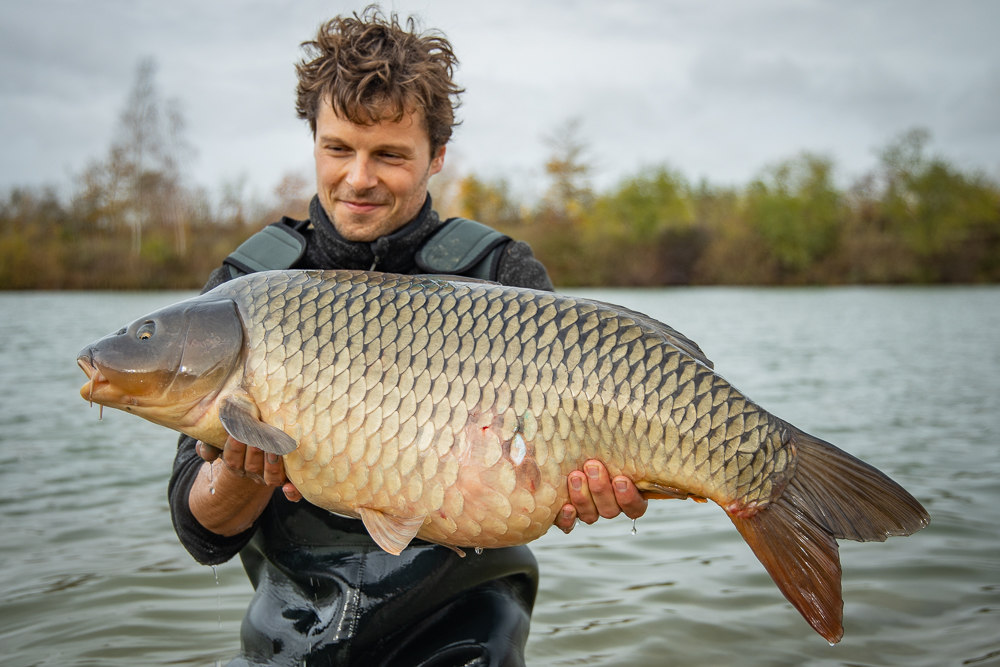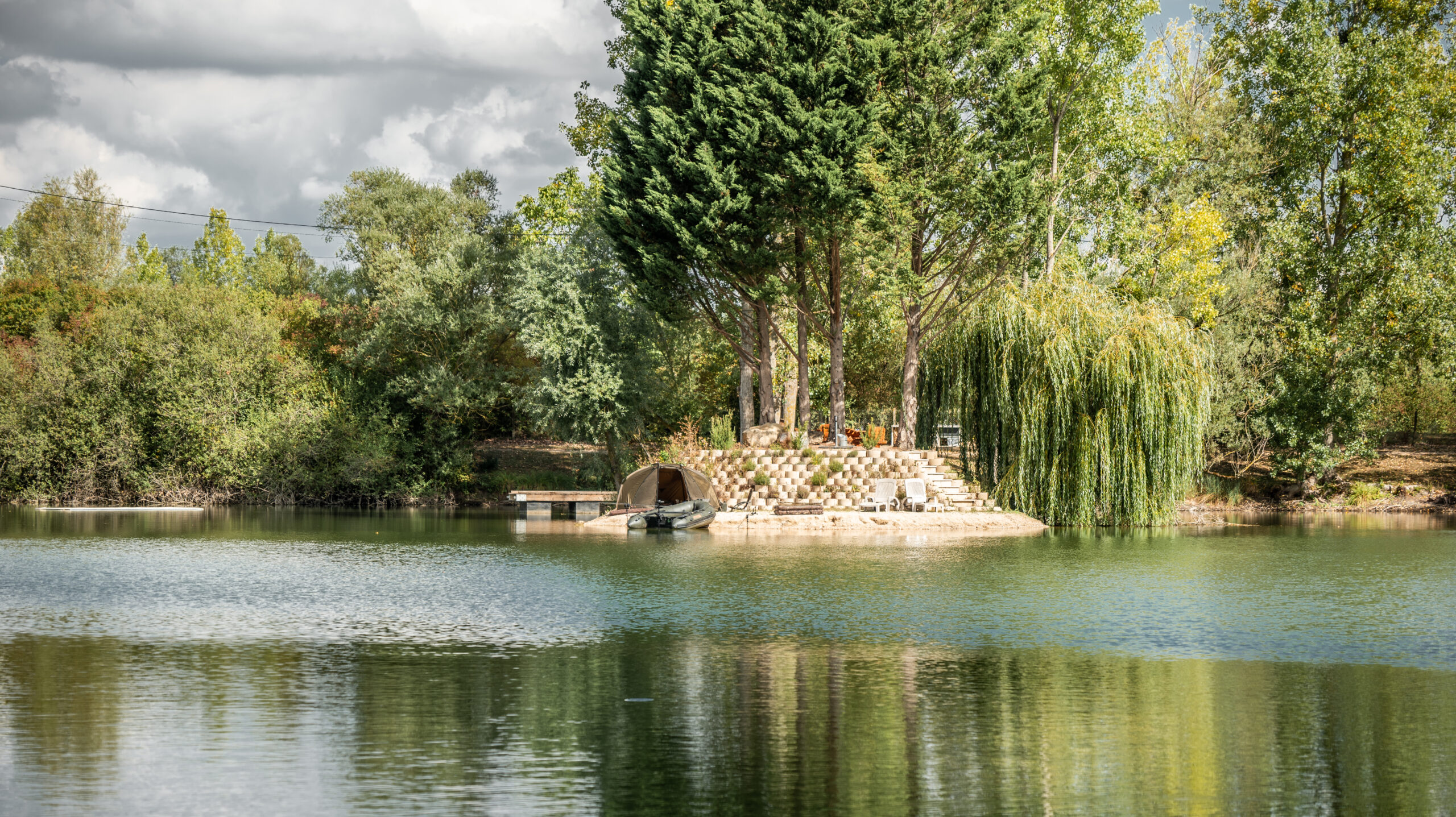 The pegs are spread out over the domain: Two to four pegs are placed on the various lakes. They are all spaced far apart and do not overlook the others. When you reserve a lake at Paris Carp Fishing, it is all for you. So, you can fish from any of the pegs on the lake you reserved during your stay. Fishing at Étangs de la Bassée is subject to strict rules (see the Fishing Regulations for more information). We take pride in preserving our stock and our environment.
FISHING SPOT 2 - 2 ANGLERS - 3 RODS
ARÔME LAKE LODGE
Ondine lodge is a three-star peg. You can fish from the terrace or the jetty—a big rod pod is required. Here, you can fish in a shallow bay to the right, from a bank with dense vegetation on the left and, if no one is occupying peg 1, you can go as far as the seagrass beds on the bank to the south. The banks have a lot of vegetation, and the fish move around it. The two clumps of trees on the left are prize positions. There are some groups of fish around the boulders, particularly under the willow along the peninsula and the third group of trees on the left.
Conditions : 2 anglers – 3 rods max
Orientation : This peg faces north, and you can fish from the left bank swept by the prevailing winds, as well as the bay at the entrance, which is sheltered from the cold winds.
Surface area: 12 m²
Water depth : Average 3.30 m. The depth varies from 2.7 m to 3 m in the muddy area and decreases towards the centre of the lake, becoming sandier. The banks are rather deep, which attracts fish all year round.
FISHING SPOT 4 - 2 ANGLERS - 4 RODS
IDYLLE LAKE BEACH
This peg offers a multitude of fishing spots on the left, like the bay entrances and the island tips where you can easily find an area with a lot of fish. In the open water, a pebbly patch about 30 metres away is home to crayfish, and sometimes the fish come to feed right up to your feet, since this is a winter feeding spot. The fish love to come to the tip of the island as well as its margin. The island is shared with peg 5. To the right, the lake margin is too densely vegetated to fish in a way that is risk-free for the fish. The shore opposite can be fished if peg 3 isn't occupied. It is easy to fish, whether casting from the shore or by dropping from a boat.
Conditions : 2 anglers – 4 rods max
Orientation : This peg faces south, hence its beach-like atmosphere.
Surface area: 40 m²
Water depth : This part of the lake is quite regular, with an average depth of 2.8 m on a bed of sand. The margins are comprised of various drop offs of 50 cm and 1.8 m with very hard pebbles. This peg is sheltered from cold winds.
This peg can host a bivvy
Our seven fishing lakes boast exceptional, unique stocks. In each lake, beautiful koi carp, common carp, mirror carp and grass carp cohabitate. We restock the fish regularly, and our carp stocks include more than 150 carp weighing up to 30 kg. Fishing is done with the greatest respect for the fish, and we practice "no-kill" fishing.
Every day, we focus our efforts on maintaining a biotope of the highest quality so the fish have an environment in which they can thrive.
Our lakes are supplied with water of exceptional quality.
The lakes at Paris Carp Fishing offer a wide variety of fishing spots. Depending on the lake, you can choose between accommodation with all the comforts or a stay in a bivvy (not provided). Sanitation facilities (showers and WC) are available for free to anglers on the domain.
Find all of Paris Carp Fishing's news and offers.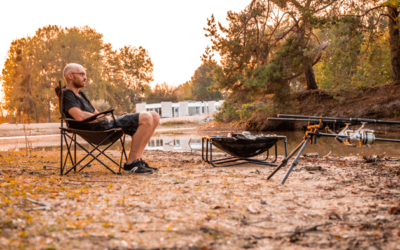 Paris Carp Fishing is open from 1 September to 27 June. Come enjoy our 19 pegs spread throughout the domain. Our seven lakes each have two to four ...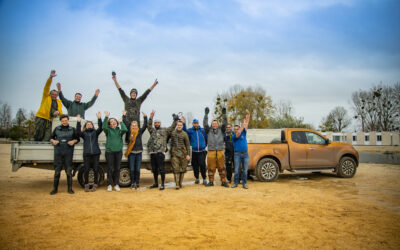 In late 2019, in collaboration with Etangs Creusois, a hundred carp were restocked: Over 70 carp weighing 12 to 18 kg 20 or so from 18 to 20 kg N...
Incredible stock! The koi carp are just magnificent.
The team is wonderful, just like the domain!
Paulo de Oliveira A great place to fish for carp! Lots of pegs and remarkable species.
Matthieu R I caught a grass carp and a super fully scaled that weighed 13 kg. The domain is just great! There are some great carp here. I can't wait to come back!
Julien F